US companies looking at China for growth, says CNBC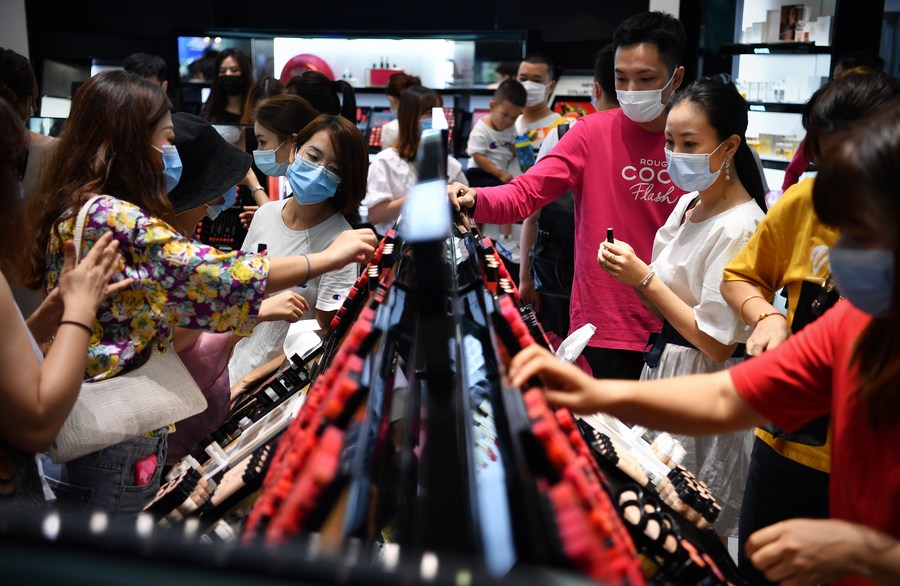 Tourists shop at a duty-free shopping mall in Sanya, Hainan province, on Oct 5, 2020. [Photo/Xinhua]
China may help the US companies weather the impact of the COVID-19 pandemic, said the US business news cable network CNBC in its report "US companies with China operations look to the Asian giant for growth" on Nov 16.
The report said China is set to grow this year while the rest of the world will contract.
CNBC citing IHS Markit said China has the highest business recovery rate, followed by the US. The result came from a survey of more than 6,600 companies in 12 countries in late October.
The global 48 percent companies need an average of five months to recoup lost output, while the businesses' recovery period is two months in China, and three months in the US, IHS Markit said.
Chinese market is important to the US companies with China operations. Many members of the US-China Business Council registered growth in the third quarter of this year, said CNBC, citing Matt Margulies, vice-president for China Operations, at the council.
Matt was quoted by CNBC as saying that at least the companies that he engaged with, he didn't think their view or preference for China really ever waned that significantly. He also said "a lot of American companies are really in China to sell to China because that's where their market is. Very few of them are there to export to the US".
China has become increasingly important over the last several years to major international corporations as the country has hundreds of millions of consumers to provide the business opportunity, said CNBC.
The cable network cited Alibaba's data showing that the international companies including Apple, L'Oreal, Estee Lauder, Lancome, Nike and Adidas, sold over 100 million yuan ($15.2 million) each in gross merchandise value during the Singles Day shopping festival from Nov 1 to Nov 11.
"Many companies are looking to China now for growth, as actions including increasing hire and turning their marketing initiatives toward China", said the CNBC, citing Daniel Zipser, senior partner at McKinsey.
Global companies are strengthening their business in China, said the CNBC, citing Cheng Dong, vice-chair of the Shanghai Federation of Returned Overseas Chinese. Cheng noted that in some industries, orders from within the country are surpassing those from overseas.
CNBC also quoted Cheng as saying there were companies leaving China, or laying off staff, but the sense is this trend is weakening.
---