US firms welcome to invest, senior official says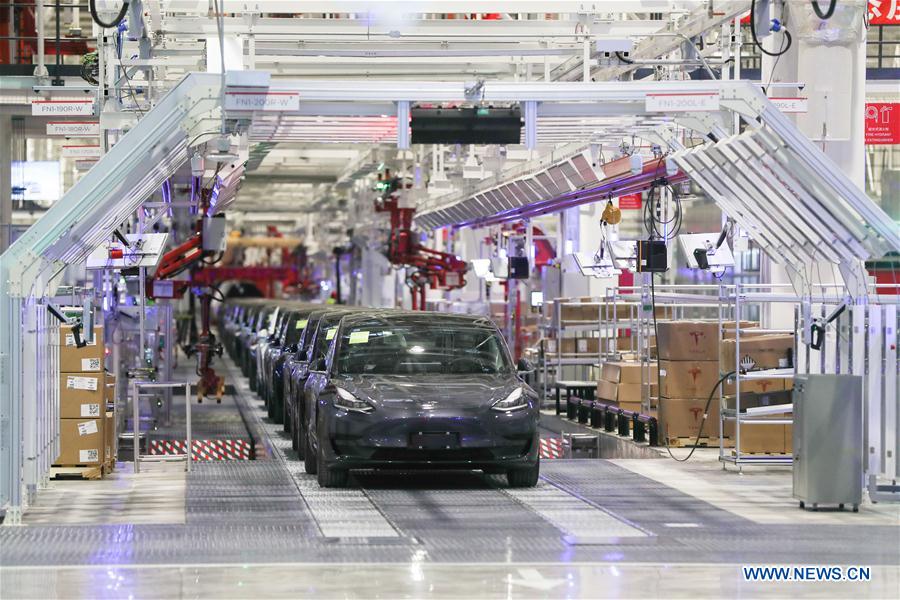 Photo taken on Jan 7, 2020 shows China-produced sedans at Tesla's gigafactory in Shanghai, East China. [Photo/Xinhua]
China welcomes US companies to continue expanding their investment in the country and supports the strengthening of mutually beneficial cooperation by firms from both sides, said a senior government official.
Facing both challenges and opportunities, China-US bilateral economic and trade ties are at a critical juncture and it is in the interests of both sides to strengthen cooperation and achieve a win-win situation, said Ning Jizhe, vice-minister of the National Development and Reform Commission.
China hopes the US business community will seize the opportunities brought by its booming economy and opening-up to strengthen cooperation with Chinese partners, Ning said.
Ning made the remarks during a video conference last week with Craig Allen, president of the US-China Business Council, and representatives from eight US companies, including Cisco, ExxonMobil, Warner Bros, General Motors, PepsiCo and FedEx.
The NDRC, China's top economic regulator, revealed details of the meeting on its website on Wednesday night.
Ning stressed that China's policies toward the US are consistent and clear. The nation is committed to developing a non-conflictual, non-confrontational relationship with the US that features mutual respect and win-win cooperation, while firmly safeguarding its sovereignty, security and development interests.
China hopes the two countries will meet each other halfway, manage their differences, expand cooperation, and put the growth of bilateral ties on a coordinated, cooperative and stable track, he said.
During the online meeting, the two sides exchanged views on issues of mutual interest such as China-US economic and trade cooperation, China's further opening-up and its macroeconomic situation, according to the NDRC.
Although the pandemic has had a huge impact on investment, China-US bilateral investment has maintained a certain scale, said Ning, noting that China has continued to expand its opening-up.
China implemented the Foreign Investment Law in January, shortened its negative lists for foreign investment and introduced a number of policies to further optimize its business environment for global investors.
According to the NDRC, the shortened negative lists further improved the level of openness in the services, manufacturing and agricultural sectors, with measures such as the lifting of restrictions on foreign investment in commercial vehicle manufacturing and the raising of the maximum stake foreign investors can hold in wheat breeding and seed production to 66 percent.
Ministry of Commerce spokesman Gao Feng said that foreign investors' expectations and confidence in China remain very strong.
According to a recent survey conducted by the ministry, 99.1 percent of foreign-funded enterprises indicated that they would continue to invest and operate in China, Gao said at a media briefing on Thursday.
Although the US government has pressured companies from certain developed economies to cease operations in China, and tried to build a global industrial and supply chain without China, foreign direct investment from the US continued to flow into China, rising 6 percent year-on-year in the first half of 2020, according to the ministry.
Otis Corp, a US manufacturer of elevators and escalators, opened its new escalator factory in Haining, Zhejiang province, on Wednesday. The facility incorporates intelligent manufacturing and advanced automation to produce high-performance escalators and moving walkways.
Located close to Shanghai, the new plant has Otis' latest digital technologies, such as 3D modeling, custom engineering and real-time quality management that enhance product quality and operational efficiency, said Perry Zheng, Otis' president for China.
"Escalators are one of our core products and our escalator factory in China serves global markets. The upgraded Otis escalator factory underscores our confidence in the China market," he said, adding that the group is committed to continue meeting the needs of its customers in China, the world's largest elevator market.
Backed by a broad spectrum of strong upstream manufacturers and downstream customers, China will maintain its key position in FDI among global investors, in particular from developed economies, said Song Xujun, a global partner of US-based management consulting firm Kearney.
---