A comprehensive power quality solution provider-Strong Power Electric
Any questions about this biz info or need more details? Please click to submit your inquiry.
I.Company Introduction
Strong power electric was founded in 2006, which is a high-tech enterprise integrating R&D, production and sales of smart grid distribution automation, power quality, energy efficiency management and other products.
Strong power electric has successively won certificates such as "National High-tech Enterprise", "Henan Power Quality Management Research Center", and hundreds of patented technologies and software copyrights. And participate in the formulation of many national standards and industry standards; the first and second deep integration technology researched and developed is the first batch in China; unique single-phase voltage control device technology can completely replace imported products; complete power quality solutions to reduce power loss.
Main products
Power Grid channels:
The products such as voltage management, fault diagnosis and isolation, primary and secondary fusion circuit breakers, pole-mounted circuit breakers, online monitoring equipment, three-phase unbalance management, recloser controller, arc flash protection unit, and reactive power compensation.
User engineering channels:
Reactive power compensation, harmonic control and power-controller, etc.
Power grids channels:
APF(Active Power Filter), SVG(Static Var Generator), capacitor switching switch , controller, arc flash protection unit, power-controller module, intelligent capacitors, etc.
Strong Power Electric expects to complement mutual resources and seek common development with the sincerity and truthfulness!
II.Products introduction
Single-phase voltage regulator
(1)32 levels of fine voltage regulation;
(2)2 million operation life;
(3)The pressure regulating capacity can reach 25MVA;
(4)With LAN interface, SCADA power distribution automation can be realized;
(5)It can be flexibly installed in lines or substations, and can be withdrawn from bypass operation when necessary;
(6)Maintenance-free for 20 years.
Auto recloser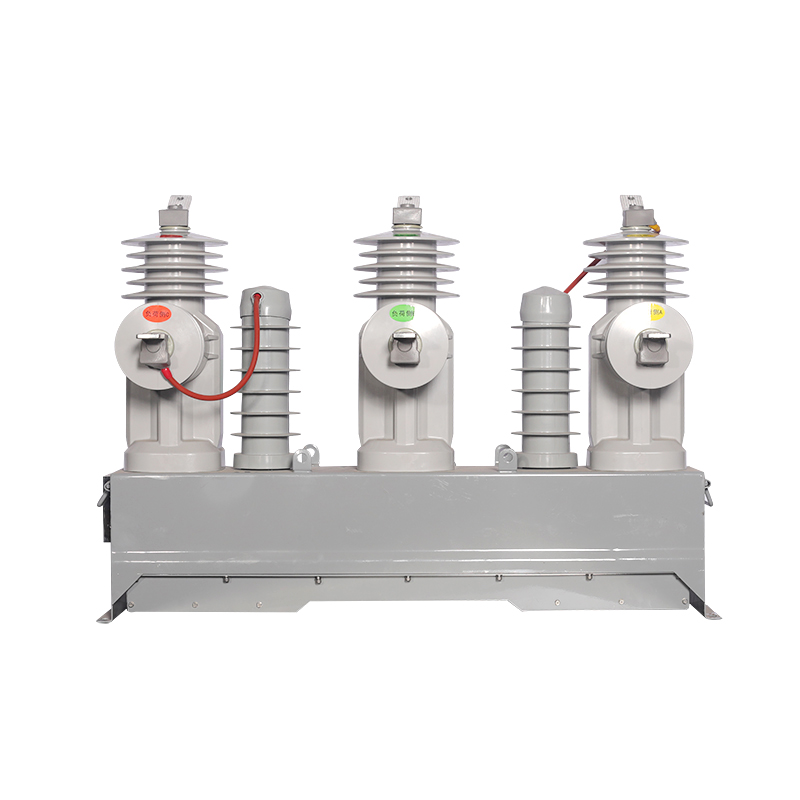 (1)Capacitive high-voltage energy acquisition + dual backup power supply design, eliminating the cost of installing electromagnetic transformers;
(2)Differential protection, local or centralized FA;
(3) Use the Internet of Things and regional data analysis to realize single-phase grounding point positioning;
(4) Fully enclosed structure, the partial discharge of the whole machine can reach 10PC;
(5)Fully enclosed structure, the partial discharge of the whole machine can reach 10PC;
(6)Integrated design of isolation knife and switch, with visible isolation disconnection point.
Terminal low voltage control device
(1)Integrate functions such as voltage adjustment, reactive power compensation, power quality online analysis, data acquisition and storage, and fault alarm;
(2)The value of magnetic flux density is low, and the line loss is small;(3)The pressure regulating module has a large regulating range;
(4)The adjustment gear can be customized according to the on-site working conditions;
(5)With phase-to-phase compensation technology, active power can be compensated while compensating for reactive power;
(6)The maintenance is simple and the service life is long.
Low voltage reactive power compensat

or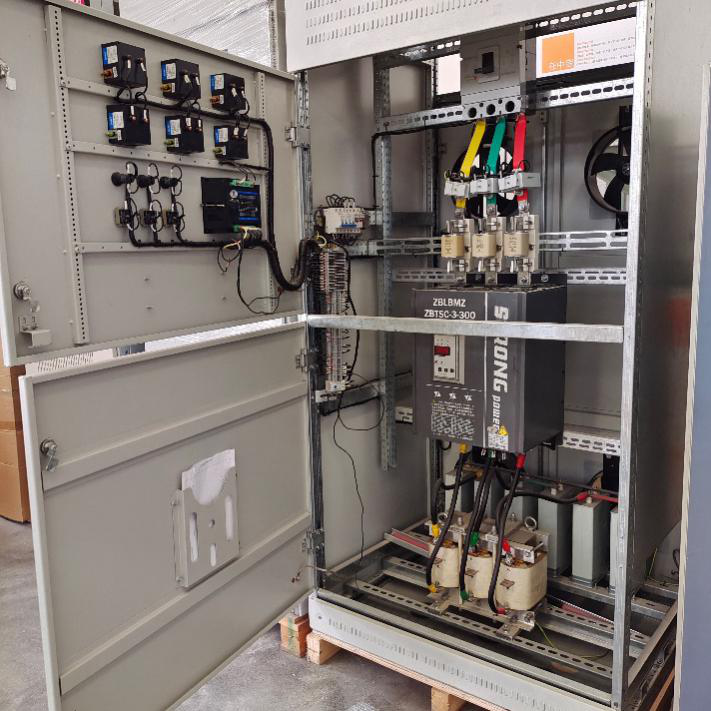 (1)It can effectively improve the quality of power distribution, suppress bus voltage flicker, compensate unbalanced load, filter out harmonics, and improve power factor;
(2)Flexible configuration of filter channels and compensation channels has obvious advantages in cost and performance;
(3)It has multiple alarms and protections such as two-stage over-current and over-voltage limit;
(4)Using touch screen human-computer interaction, the design is more humane, convenient and beautiful;
(5)The product has obtained a number of patented technologies and software works.
Thyristor-switched capacitor
(1)The appearance is new and unique, with appearance invention patents;
(2)Zero-crossing switching, switching switching, small inrush current, low power consumption;
(3)With 485 communication interface, it can communicate with local computer equipment;
(4)With status indication and alarm type display function;
(5)With protection functions such as unbalance, over-current, and harmonics.
Low voltage

Intelligent Capacitors
(1)Modbus-RTU communication protocol, with 485 communication interface. It can communicate with the device remotely via the Internet via GPRS;
(2)With status indication and alarm type display function;
(3)With functions such as unbalance protection, overcurrent protection, and harmonic protection;
(4)Set a built-in temperature sensor to achieve the purpose of protecting the equipment;
(5)Green and environmental protection characteristics, dry-type self-healing capacitors have no leakage, overall flame-retardant and explosion-proof, environmentally friendly, and low annual attenuation rate.
SVG

module
(1)Fully digital control method based on 3DSP+CPLDR and high-speed IGBT closed-loop control;
(2) Precisely filter out harmonics, automatically clear resonance, and not be affected by changes in grid impedance and system impedance;
(3)Faster response, more powerful functions and modularity;
(4)Drawer structure design, device integration, small module size, beautiful appearance, low cost.
8.Recloser control
(1)Fault isolation and protection function;
(2)Feeder automation function;
(3)Reclosing function;
(4)Double backup power supply with super capacitor and battery;
(5)Accurate fault grounding positioning function.
9.High voltage reactive power control system
(1)Elaborately designed to meet the compensation of high-voltage lines;
(2)DSP+MPU dual-core parallel operation;
(3)Multiple sets of control strategies, with three models of single-stage, double-stage and three-stage reactive power detection, automatically determine the operation mode of the bus, not only can adjust the reactive power, but also consider the integrated voltage control.
(4)The advanced and practical control algorithm minimizes the number of actions.
10.Filter compensation controller
(1)Fully digital design, with functions of monitoring system harmonics, protection and fault diagnosis;
(2) Reactive power compensation has high precision, high degree of automation and convenient operation;
(3) Using touch screen human-computer interaction, convenient and beautiful;
(4)Realization of the Internet of Things technology, which can realize big data collection and equipment management through APP, handheld terminal, PC and other channels;
(5)Mainly run in the low-voltage harmonic control site.
11.Intelligent comprehensive reactive power compensation controller
(1)Possesses multiple switching modes of cyclic switching, coding switching, and filtering compensation;
(2)With harmonic over-limit protection function;
(3)Intelligent control technology, online power quality analysis, data collection and storage, fault alarm and other functions are integrated.
III. Contact person
Strong Power Electric Co., Ltd.
Add.: Zhongbao Electric Smart Grid Industrial Park, No. 999,
Wuyang East Road, High-tech Zone, Xinxiang City, Henan Province, China Tel.:+86-373-5763010
Fax: +86-373-5068807
Phone:+86-13653737638(WhatsApp & Wechat)
Email: info@zgzbdq.com
Web: www.zgzbdq.com
Contact

IT Center, China Council for the Promotion of International Trade (CCPIT)

+86-10-82217954

tradeinvest@ccpit.org
Note: This website does not guarantee the authenticity, accuracy or feasibility of the project information provided, and any legal consequences based on this information bear no relations to this website.
Any questions about this biz info or need more details? Please click to submit your inquiry.